Situational Awareness for Wind and Solar Operations
Renewable energy has it's origin in weather and climate. Moving air currents known as wind generate power used by business and consumer alike. The sun's energy is converted to electrical power for the same reasons. Because both forms of energy are weather driven, a comprehensive, intuitive and intelligent situational awareness system is necessary for owner/operators. Indji Systems delivers powerful SaaS solutions that allow the end user to evaluate the current weather threats to operations, receive alerts and alarms for active threats and view into the future to make an early determination on upcoming threats. Indji Watch is a comprehensive tool for helping the industry deal with the increasingly extreme weather.
A Customized System
Wind and solar farms can cover up to 100 square miles of landmass. Owner/operators need to monitor the entire area and not a single point on the map. To effectively protect employees and assets from weather-based hazards and threats, the entire farm needs to be monitored. The patented Indji Watch modelling software is the only system in the industry that allows you see weather threats in relation to your entire asset footprint including all unique features that make up the farm. Threats from lightning, high winds or even a wildfire will be clearly visible to the end user, allowing for fast, accurate decisions to protect life and maximize operations.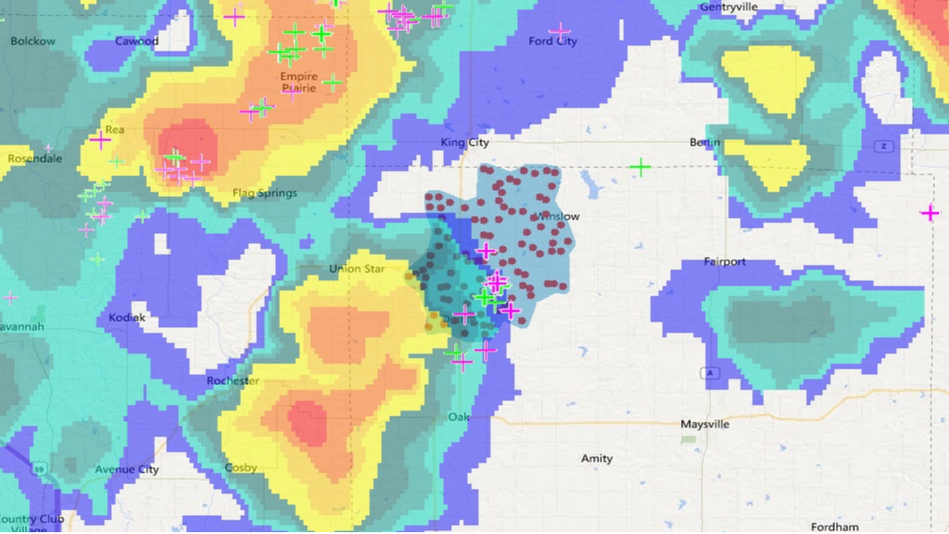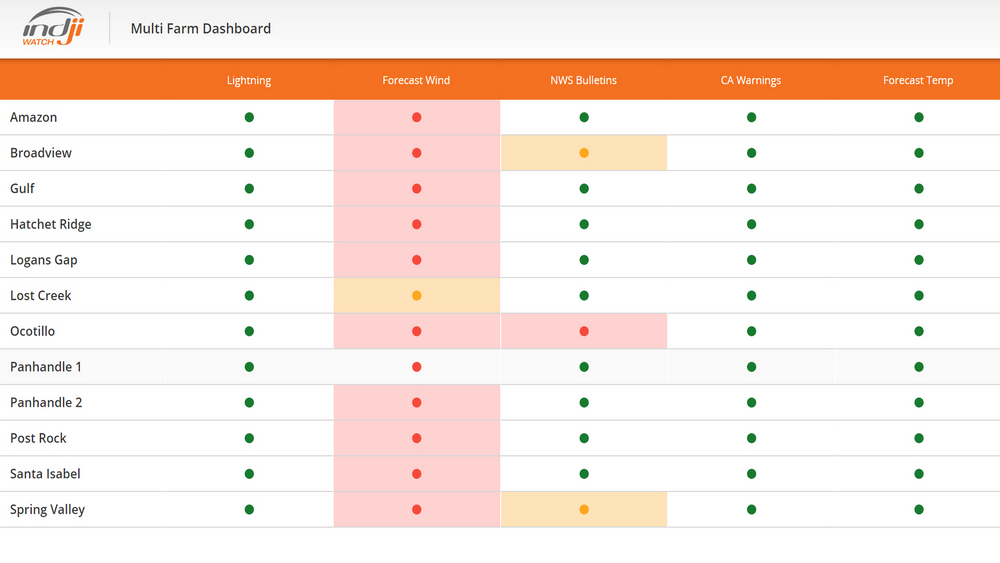 Superior Content for Intelligent Decisions
Advance warning of approaching lightning or high winds is critical to allow field crews to have time to safely stop work and reach the ground. Indji Watch gives you the ability to set light­ning and high wind thresholds allowing you to alert your team if these thresholds are going to be exceeded helping you make informed decisions when planning your maintenance schedule.
Indji Watch provides you with accurate forecasts using data from the Global Weather Corporation, National Weather Service NOAA high resolution models and Vaisala's National Lightning Detection Network®, and then delivers customized warning alerts, based on your defined warning thresholds. You'll receive alerts and warnings that help you make the right decisions to mitigate the event and optimize your resources.
Alerting
With Indji Watch, you receive threat alerts based on a proximity you choose. Team members can choose to receive automated threat alerts via their mobile device, tablet or desktop device with no license restrictions. Receive only the asset threat alerts that are important to you based on customized monitoring rules that you define. We'll alert you when new threats appear so you and your team in the field have the right information to make informed decisions and stay safe.
Plan of Day
The Plan of Day is a visual dashboard that offers you the ability to quickly identify rapidly changing weather at-a-glance, allowing you to be more proactive in mitigating potential impacts to your operation and employee safety. The intuitive display provides a continuously updating view of current and approaching weather threats. Simply open the dashboard, choose your location and view the display as needed. Data will be refreshed automatically.
The Plan of Day uses high resolution weather models to produce an hourly updating forecast of key weather param­eters that could have an adverse impact on your wind or solar farm operations, including:
Lightning
Ice accumulation
Surface wind
Surface gust
Hub height wind
Hub height gust
Extreme temperature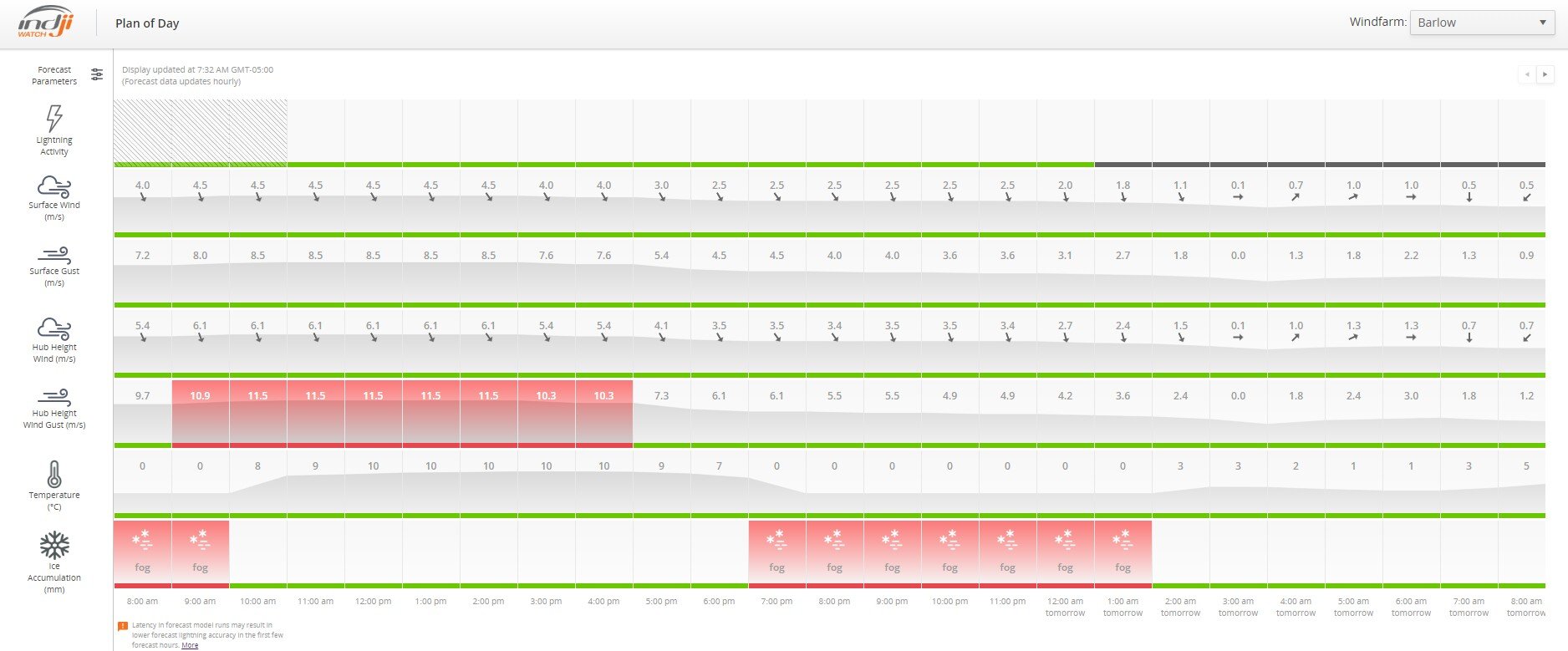 Indji Watch prepares you to take on the extreme weather that will impact your renewable asset. It's not if the impact will happen it is when. Indji Watch Situational Awareness capabilities will help you be more prepared to take pre-emptive action to mitigate the impact to your operations.
Other resources you may be interested in